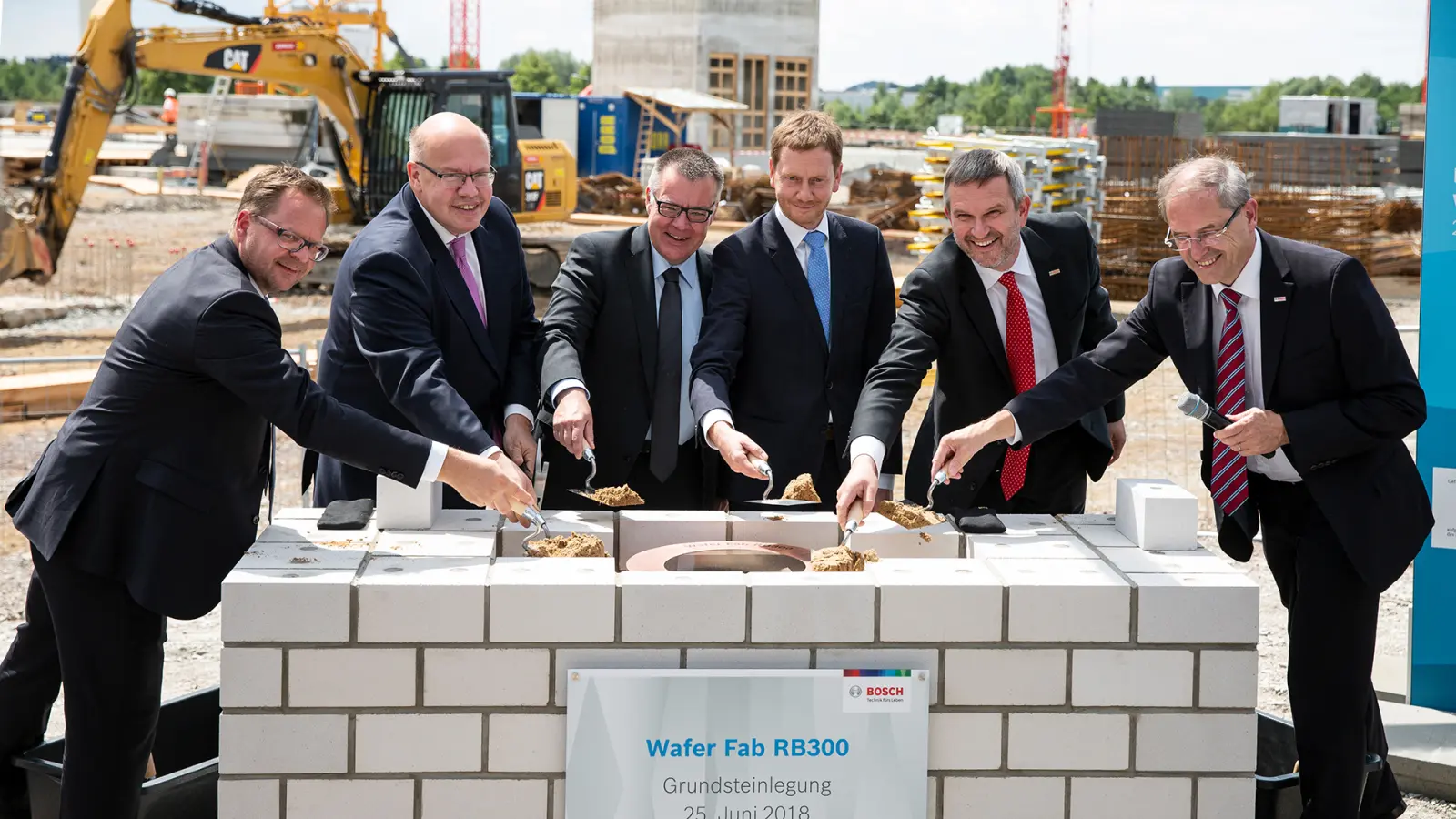 Laying of the foundation stone for new Dresden Fab
Laying of the foundation stone for new Dresden Fab
The foundation stone laid on June 25 in Dresden is a key milestone in the construction of the Bosch Group's state-of-the-art wafer fab. Construction is scheduled to be completed in late 2019, when installation of the production machinery will start. "Today we are laying the foundation stone for the wafer fab of the future, and with it the foundation for improving people's quality of life and their safety on the road," said Dr. Dirk Hoheisel, member of the board of management of Robert Bosch GmbH, at the formal ceremony in Dresden. "Semiconductors are the key technology for the internet of things and the mobility of the future. When installed in cars' control units, for example, they enable automated, efficient driving and the best possible passenger protection."
In his address, Peter Altmaier, the German Federal Minister for Economic Affairs, underlined the central importance of this Bosch investment: "We are today taking an important step toward securing the future competitiveness of Germany as an industrial location. The research community in Germany and Europe is an excellent one, but we cannot afford to rest on our laurels. In the field of microelectronics, we also need engineering skills and know-how, and especially industrial-scale manufacture and application, in Germany and Europe. Today's ceremony is an important step on this route."
After Reutlingen, the Dresden plant is the Bosch Group's second wafer fab in Germany. With it, the company aims to expand its manufacturing capacity, and thus to boost its competitive edge in global markets. Semiconductors are finding their way into more and more applications relating to the internet of things and mobility solutions. According to the market research company Gartner, semiconductor sales around the world rose by some 22 percent in 2017 alone.
The highly automated production facilities analyze their own data in order to optimize their processes, this is why artificial intelligence will play a special part in chip manufacturing in the factory. As a result, the quality of the chips rises while production costs go down. Furthermore, planning and process engineers can access this production data at any time to accelerate the development of new wafer products or minimize tolerances early on in the manufacturing process.
According to the future plant leader Otto Graf, the construction work is on schedule. During construction, some 7,500 truckloads of earth will be moved, 80 kilometers of pipes and ductwork will be laid, and more than 65,000 cubic meters of concrete will be mixed. Following a rollout phase, pilot manufacturing operations are expected to start around end of 2021.
The plot of land – measuring some 100,000 square meters, or roughly 14 soccer fields – will also be home to a nearly 72,000 square-meter multistory building housing offices and production space. Up to 700 associates will be involved in the highly automated chip manufacturing process, working to plan, manage, and monitor production. This also includes modifying the production processes and evaluating the data from Dresden in Bosch's global manufacturing network.